9 Quick and Easy Ways to Improve Your Email Marketing
Email marketing is one of the most effective ways to build relationships with your patients and boost production. Moreover, email marketing is already included in ThriveCloud, so it doesn't cost anything but your time to get started. We'll go over a few things that will help you get better results below.
1. Start with Templates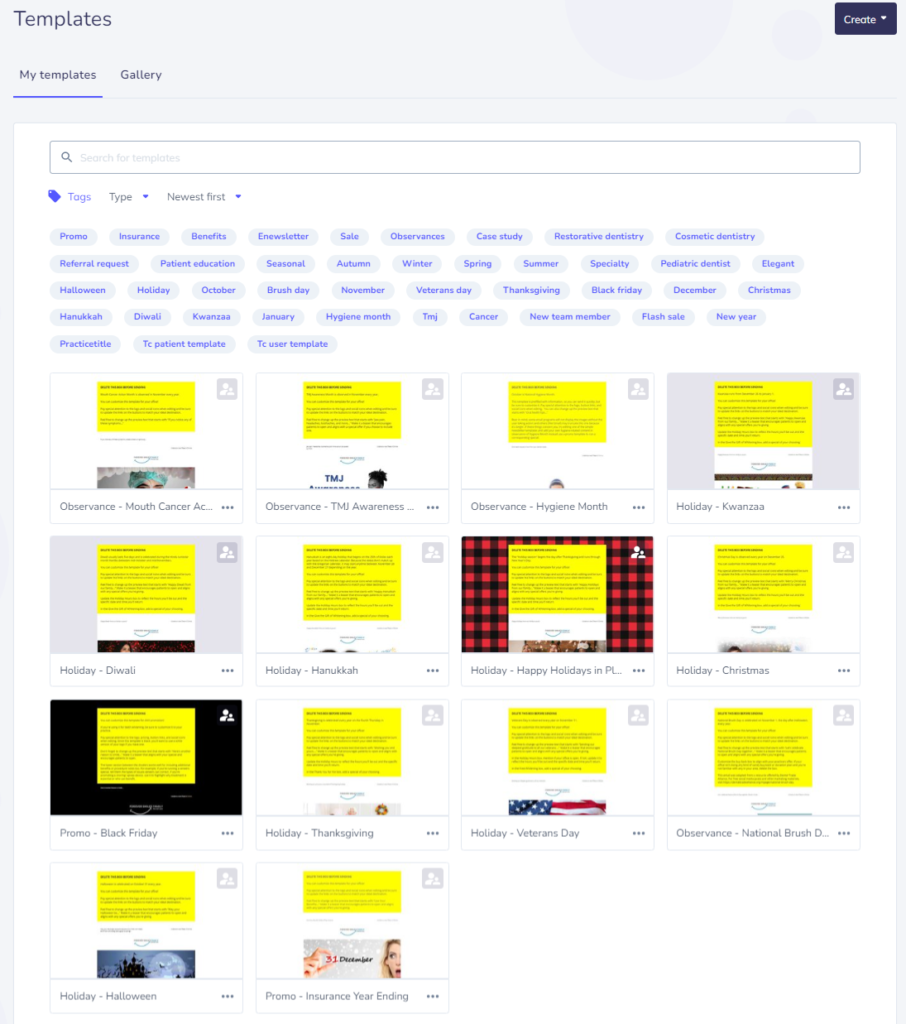 If you're using the email marketing tools included in ThriveCloud, you'll have the option to create emails from scratch or choose from a variety of pre-built email templates. We recommend using the templates if you're just getting started. They include all the elements you need to run a successful campaign – all you need to do is swap out the content to align with your practice and link to your practice's resources.
2. Optimize for Mobile
More than 70% of people read their emails on a mobile device according to Campaign Monitor. The reader will delete the email in seconds in up to 70% of cases if it doesn't display correctly on their phone. If you're using the email tool included in ThriveCloud, look for the "mobile view" option in the toolbar at the top of the screen. Click the mobile view option to see how your email will display on mobile devices and make sure your patients will have a great experience on their phones too.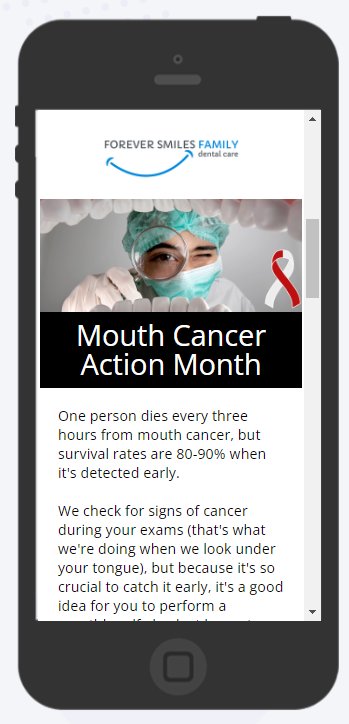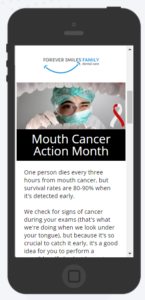 3. Have a Clear Call-to-Action (CTA)
Every email you create should provide the reader with their next steps. In marketing, this is referred to as the call-to-action or CTA.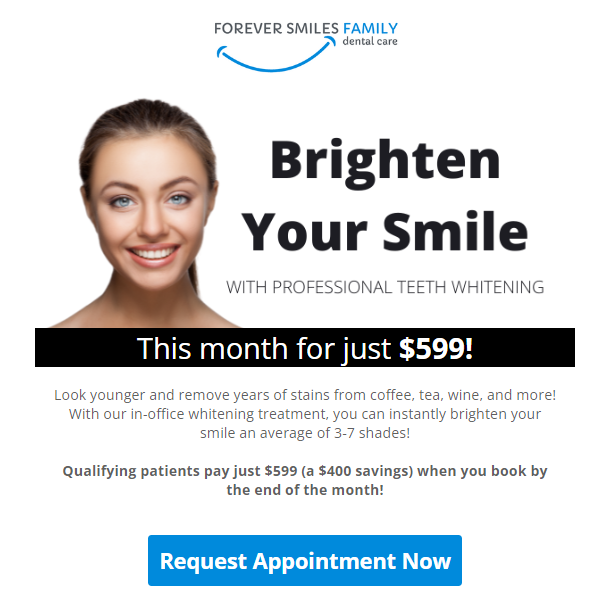 Both of the examples above provide the reader's next steps with a high-contrast button that stands out. In the "Book a Consultation" example, the full box is colored, so it stands out more when it's mixed in with content. In the "Request Appointment Now" option, we're providing the CTA near the top of the email, so readers can take action right away. Both examples would have links to the practice's online booking portal, so the patient could schedule right away without having to speak with someone.
You can use A/B tests to experiment with different CTAs and see which ones your patients respond most to. Some ideas to try:
Save 20%
Start for $599
Lock in Your Special
Request a Virtual Consultation
Count Me In
I Want Whiter Teeth
4. Consider Accessibility
Remember that people reading your emails will have different abilities. For instance, people with certain types of colorblindness may have trouble telling red and green apart. Those with visual impairments may also use special tools to read the content out loud to them, in which case they'll miss out on any data contained in images. Use alt image tags to describe images and any written content in them to ensure they get the same experience.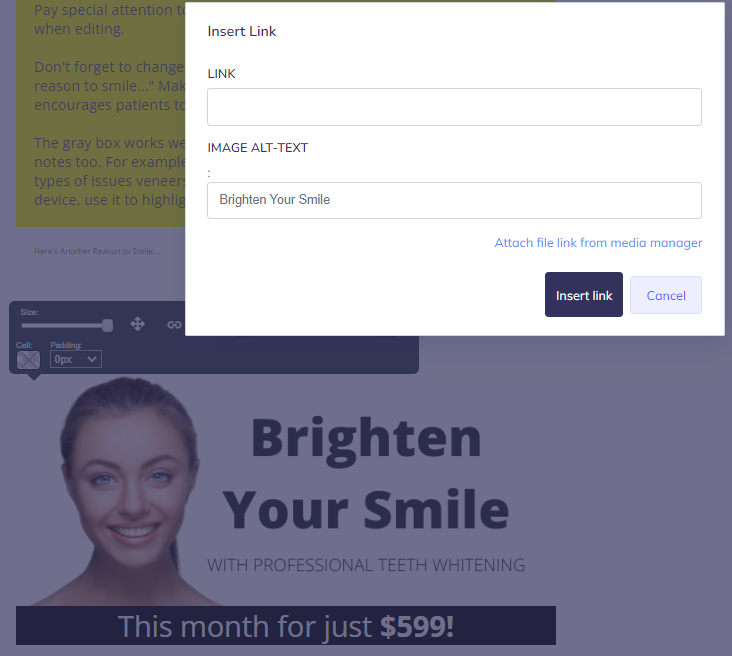 The image above is an example of how this works in the ThriveCloud email marketing tool. Just click the image in your email, then click the link icon in the toolbar, and add your descriptive text to the "Image Alt-Text" field.
Email service providers notice when you follow accessibility best practices, so your emails are more likely to land in inboxes rather than spam folders too.
5. Skip the Jargon
Speak like your patients do so it's easier for them to follow what you're saying and take action. For example:
Cleaning > Prophy
Checkup > Recall/ Recare
Root Canal > Endodontic Treatment
Tooth Gap > Diastema
6. Remember Branding
Branding helps patients recognize your communications, boosts trust, and makes your content look professional. Once you choose your preferred color scheme, fonts, and logo, stick with it and include the same elements in all your communications. If your practice has a website, try to duplicate the branding people see there in your emails.
7. Don't Overdo Images
Your email content should be no more than 40% images and no less than 60% text. If you overdo it, you'll have more trouble with accessibility, more difficulty getting your emails to display properly on different devices, and your emails are more likely to look like spam, so they'll be sent to spam folders instead of inboxes.
8. Focus on Education
It's ok to drop the occasional promotional email into inboxes, but your email communication should be educational for the most part. This keeps your patients engaged and demonstrates your expertise, which ultimately boosts loyalty and case acceptance.
9. Connect on a Schedule
Setting an email schedule is important because it helps ensure your emails build familiarity with your practice. If you're providing helpful content, patients start to look for your emails too. Plus, creating a schedule helps ensure you keep email marketing on your radar and task lists, so you're more likely to follow through.
Get Help with Your Email Marketing
If you're using ThriveCloud and want a refresher of the email marketing tool, connect with our Support team using the contact tools inside ThriveCloud.
Not using ThriveCloud yet? ThriveCloud includes email marketing, online reviews, online scheduling and a ton of other dental practice marketing tools at no cost in addition to all the clinical and business tools your practice needs for daily operations. Request a demo and we'll show you around!